FotoMix
9.2.7
The perfect mix of two pictures
Although some unpretentious image editing programs come with a lot of other features that help organizing a photo library, some do not. Why need browsing panels and batch conversion menus when all you need is to crop your friend out of a photo and put him on a weird background?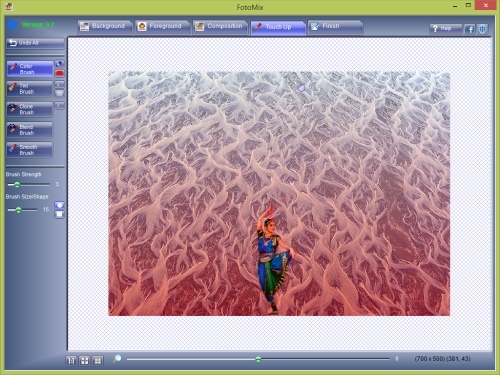 FotoMix does just that. Without worrying about useless features, the entire program is a work flow in which you select a background image and a foreground image after which you make them look good one on top of the other.
Backgrounds can be edited for transparency and shading. The foreground can be freely cropped by using a brush with variable sizes. You can add various color and texture effects and add duplicates to populate the final image or simply to save intermediate states. This is important because FotoMix does not handle undo very well. The background section only has one step of undo, while the Foreground features an Undo All button, which refers to that section only.
The Foreground and Composition sections is where you will do most of the altering process. Cropped instances can be moved around, resized and rotated.
The Touch up section allows you to add in blends, tints and smoothing while the Finish tab contains some options for image border and a save button. Saving the image as a project file (.fmx) allows you to edit it later. In theory at least.
Features:
Workflow type interface
Color Erase brush - the main tool
Other various effects brushes
Filter effects
Pros:
The workflow arrangement is a great choice of interface
Cons:
The undo function is not really implemented
Loading previous projects is not possible.
Conclusion
FotoMix works fine and is most likely better than using some automatic program that can only do one thing. Considering that it's free, FotoMix is quite surprisingly well put together.
---
Add a review
Tell us your experience with
FotoMix
9.2.7
RELATED PROGRAMS
Our Recommendations
---
---
---
---